Equipment Rental
Equipment Rental Price List
We reserve the right to make changes.

| Equipment | Rental Time | Rental Price | Additional Rates |
| --- | --- | --- | --- |
| Nordic 'backcountry' skis, includes shoes and ski poles | 8 hours per set | 25.00 € | |
| Snowshoes includes ski poles | 8 hours per set | 25.00 € | |
| Skinbased skis - 'sliding snowshoes', includes poles | 3 hours per set | 35.00&nbsp€ | Additional hours 8&nbsp€ per hour |
| Classic rowing boat, includes; outboard motor, oars and life jacket (excluding fuel) | Fishing day (24h) | 65.00&nbsp€ | |
| Fishing equipments - two rod/reel, includes the lures (4pc) set | Fishing day (24h) | 35.00&nbsp€ | |
| Winter equipment rental- winter overolls, shoes and mittens | Per person per day (24h) | 24.00&nbsp€ | |
Explore in Sea-Lapland with e-Fatbike and kayak
Rent e-Fatbike
e-Fatbiking is very fun and relaxing way to enjoy nature. You'll get to see more of our beautiful landscapes in less time. What e-fatbiking is all about?
As long as you can pedal a normal bike, you are ready to enjoy the trip.
Electric bikes give cyclists a 'helping hand', or push to get them up and over hills.
Rental prices for S-Electro Fat / Trail -bikes
3 hours 35 € / bike
8 hours 80 € / bike
Rent includes S-Electro Fat -bike and bicycle helmet.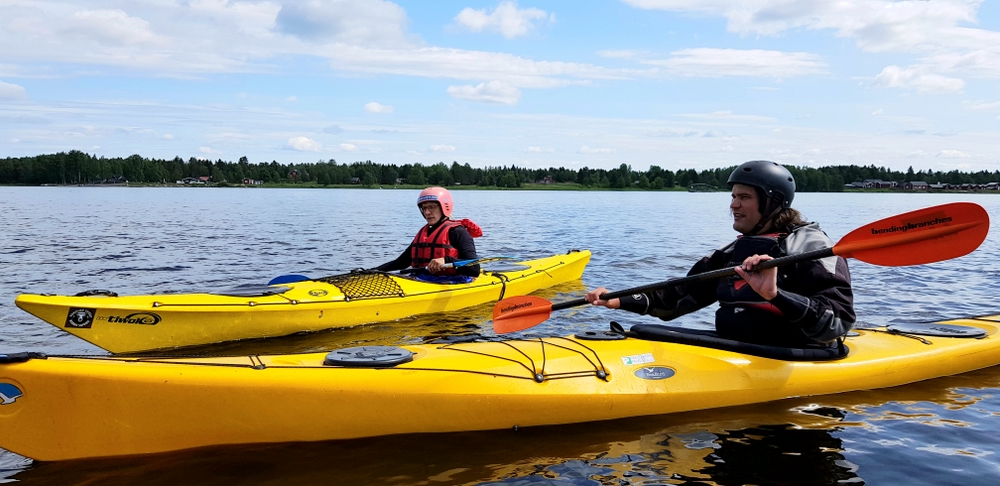 Rent kayak
Kayaking is a diverse hobby and develops wide range of skills. Paddling is suitable for people of different ages and sizes. It enhances both physical fitness and offers a peace of mind.
Rental prices and information
3 hours 25 € / kayak
8 hours 35 € / kayak
The price includes a kayak, paddle, gap cover and life jacket.
Kayaking is suitable for people who have paddling experience, have normal physical condition and are able to swim.
Available from June to the end of October.
Snowmobile Rental
Lynx Adventure 600 ACE
models 2014-2017
The family's common winter experiences are born on a Lynx Adventure snowmobile. The easy handling and advanced engine technology of the snowmobile are the basis for an enjoyable driving experience.
The snowmobile has an environmentally friendly 4-stroke engine with a fuel consumption of about 12 L/100 km.
Rental prices
80 € / two hours
110 € / four tuntia
160 € / day 09.00-17.00
In addition to the rental fee, we charge for fuel according to consumption.
Sleigh suitable for up to two children (4 - 12 years) with advance booking.
Note this
Day rent starts after 9 a.m. and ends no later than 5 p.m.
Rental prices include the following driving equipment for the driver; helmet, snowmobile thermal overalls and winter shoes. Accessories - rental 24 € / kit / rental.
Mileage limit 80 km / day rent and mileage limit exceeding 1,00 € / km. The snowmobile renter drives at his own risk, both in charge of the snowmobile and himself.
The maximum deductible (or cost of repair) in case of damage is EUR 1200.
The snowmobile renter must be 18 years old and the driver must have at least a Class T driving licence.